One of the best kept little secrets we have here in Yuba City is Brock's Ice Cream Palace. The little white and red building that holds the delicious creaminess that is Brock's is located on Gray Avenue behind the Wells Fargo.
No one I spoke to seemed to know exactly when they opened, just that they'd always been there. The parking lot is a little wonky (you have to park behind the building) and the interior has faded from it's heyday (the tables sag a bit with overuse and the red velvet wallpaper is peeling in spots and held down with scotch tape) but hey, let's face it. You didn't come here for the wallpaper, you came for the the silky smooth ice cream.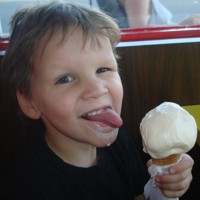 Brock's makes their rich ice cream on the premises in a myriad of delicious flavors ranging from the regular favorites of mint chip, chocolate and vanilla to the more exotic like pistachio and toasted almond. You have a variety of cones to choose from ranging from the classic cake to waffle and a "single" is actually two large scoops of ice cream. Brock's is inexpensive and a fantastic way to beat the heat on any day of the week. Their ice cream is also available in pre-packed containers to take home if you want it for that midnight snack.
Brock's Ice Cream Palace is located at 990 Gray Avenue in Yuba City, California.