At the end of a long busy week in Los Angeles I was wondering town looking for a good place to grab some breakfast. Just a few blocks up from our hotel we found the Original Pantry Cafe. One of the women I was with remembered hearing it was good food, so we wondered in.
I'm a big fan of the diner. I like basic comfort food with no fancy names and no fancy sauces. I love milk shakes and french fries and I really really love breakfast. Butter, syrup, and some kind of thick, rich carbohydrate to soak it all up really starts my day off (or dinner for that matter) with a big fat encouraging smile.
This is a classic diner atmosphere with classic diner charm. There are photos from a variety of dates along with posters decorating the walls throughout. The Original Pantry Cafe has been open since 1924, "never without a customer" and you can even see years of traffic in a spot by the front door… look at all those layers of flooring!
There are no printed menus, everything is written on a few boards placed on walls around the restaurant. The food choices are traditional all American foods; bacon, eggs, french toast, sandwiches, etc. I was thrilled to also get a tall glass of perfectly yummy raspberry ice tea. Our server was fantastic, our glasses were never empty and we left delightfully full.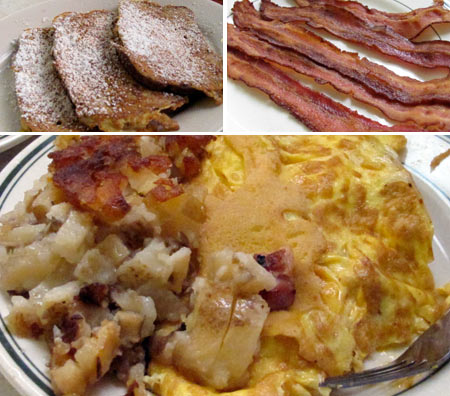 Another aspect I love about this place is the price. It's only a few blocks up from the Los Angeles Convention center on Figueroa, just up from LA Live!. Most of the places we encountered were over priced with mediocre service. I ordered a plate of french toast with a side of bacon, the server brought me scrambled eggs with cheese at no charge (because eggs sounded good but I forgot to order them and he over heard me), yet my total bill was just under $14.
The photo above includes an omelet and hash browns I was luck enough to sit by but didn't have the honor of tasting, I heard the happy recipient chewing though.
The Original Pantry Cafe in Los Angeles is truly a hidden gem in plain sight.