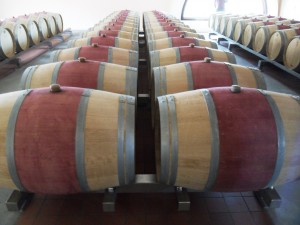 Last spring, I had the pleasure of taking a tour of several wineries in Napa Valley and the most visually seductive of the wineries we stopped at was a lovely place called Groth Winery. The people were friendly and not at all snobbish or intimidating (as some of the wineries in Napa can be) and were truly passionate and proud of their entire operation, from the soil to the table. They even have a large insectary garden planted specifically to attract insects that are the natural enemies of vineyard pests. Their barrel room is absolutely breathtaking and for someone that thrives on symmetry and mathematical repetition, achingly beautiful. The hushed room is filled with barrel upon barrel, stained with their signature red stripe and perfectly aligned with its neighbors. The air practically drips with amber hues and expectancy.
Alas, I am not a wine connoisseur…at least not yet, and I can't recall the notes or hints or vintages of wines we sampled. All I can recall is that the Groth Cabernet Sauvignon was one of the most exquisite wines we tried that day and one of the finest I've ever had the pleasure of imbibing.
I've been kicking myself ever since my visit for not buying a case while I was there!
If you ever find yourself in the Napa area, Groth Vineyards & Winery is located at 750 Oakville Cross Rd, Oakville, CA however the winery is only open by appointment, so I suggest you contact them ahead of time by visiting http://www.grothwines.com.