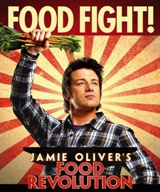 If you haven't heard about Jamie Oliver's Food Revolution, then you're either so busy whipping up your latest creation or well…I have no idea what else you could possibly be doing to not have heard about it.
Jamie Oliver has a massive passion for healthy food, especially when it comes to public schools and what they serve our kids as "school lunch". Remember Mystery Meat, creamed "corn", and tater tots fried within an inch of their life all served on a pressed formica tray in pale shades of vomit orange, green and blue? Yeah, those school lunches.
Anyway, his show "Jamie Oliver's Food Revolution" started in the UK in 2010 and last season focused on places here in the U.S., and his site of the same name has more than 700,000 petition supporters. The whole Food Revolution has multiple goals to change the way America eats: more cooking at home, freshly cooked meals at school, cooking in the community, inspiring and educating parents, kids and the community at large to support fresh foods and home and healthy cooking, and encouraging corporations to produce healthier foods and label them honestly as well as providing better food to employees.
Now, I had a privileged food childhood, though perhaps I didn't appreciate it at the time. My mom planted a garden in our backyard and we had strawberries every year as well as carrots, tomatoes, peppers, zucchini, lemons and oranges as well as the occasional foray into watermelons and cantaloupe. Our next door neighbor had a jungle of fruit trees and shared her harvest of apples, nectarines, plums and peaches with us regularly. We went to the local farmer's market several times a month and bought in-season produce. And then there's the ranch…I spent several weeks nearly every summer at my grandparent's ranch helping out, though I'm sure my uncles would say I was more underfoot than helpful, feeding the sheep, bottle feeding the calves who were twins and whose mothers had rejected them, collecting eggs, and setting irrigation pipes as well as learning family recipes at my grandmother's side. I know where my food comes from and I've made sure my kids have learned the same lessons. It just astounds me that so many kids and even people in my own generation have little knowledge of how the food they put in their mouths three times a day (or more) is even made.
Jamie's whole focus is on changing this and I wholly support the concept. Sadly, he had his own setback this week as one of his restaurants was hit in the London riots:
"sadly my restaurant in Birmingham got smashed up windows all gone whole area closed, cant open, staff and customers all safe!!thankfully jox"
Hopefully, he'll have it back up and running in no time and can focus on the real Revolution our society desperately needs.