Okay all you Red Sox fans.
I'm going to my first game at Fenway in August at Affiliate Summit. I am a baseball junkie and I have been waiting to do this for a long time (no thanks to you Miller… you know what I mean) and will finally have the chance.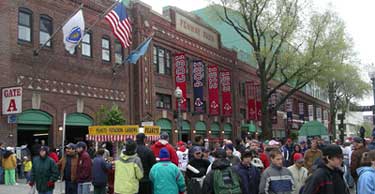 Of course, I am also a devoted foodie and I am wondering what the "can't miss" ballpark grub items are at Fenway or outside of it. Like I said previously… I am a foodie… NOT a gourmet. I have no problem eating from a dirty water hotdog stand or a hole in the wall restaurant.
I got some tips from FoodTV, but I want to hear from the fans. So – what should I eat? The best tip I get will be lavished with praise on this here blog.
Eat well…. Eat often… Repeat
Wade Tonkin
(photo from www.baseballpilgramages.com)