Karen and I took some time last week to speak with Jill Sloane, the Editorial Director at CorkSavvy.com – social network geared toward wine lovers and people who want to learn more about wine. CorkSavvy caught my attention in a press release a couple of weeks back when I saw a press release that they put out about a new mobile phone application that they have developed that allows wine drinkers to snap a picture with their phone cam, then email that picture to an address at CorkSavvy. The picture would then be uploaded into the users "Wine Diary" in their CorkSavvy account.
There is no excuse for not being able to remember a great bottle of wine that you find in a restaurant, wine shop or party again.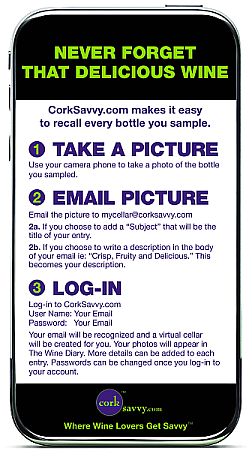 We also discussed the depth of wine content and awesome features on CorkSavvy including the Wine Cellar feature that allows users to maintain a wine database online and to share their collection with others if they like. The CorkSavvy also features a question and answer section on wine and recipes for cooking with wine and tips for matching wine with food.
In the last few minutes of the call, Jill and I geeked out on the New York restaurant scene and we heard some of her recommendations for places to eat great food and drink wine in The City.
If you are a wine lover or you are just looking to learn more about wine, UltimateFoodie.com heartily recommends that you check out CorkSavvy.com – it's cool, it's content rich, provides great tools, and best of all, it's free. Enjoy!
[audio:UFCorkSavvy.mp3]