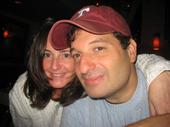 Last week, Karen and I were joined on the Ultimate Foodie Podcast by Drew Koven – a founder of and a guy who wears many hats (COO/CMO/Chief of eCommerce and 100% Customer Satisfaction) at Geoff and Drew's Cookies.
Geoff and Drew's is a Boston based gourmet cookie and baked good baker and retailer that has earned some awesome reviews from a variety of media outlets including Gourmet Magazine, Inc. Magazine, The Today Show, Modern Bride, Rachel Ray Every Day and more. The bottom line is… they bake some damn fine cookies and brownies.
[display_podcast]
We talked with Drew about a ton of different Geoff and Drew's Cookie related topics including their roots as a late night cookie and milk delivery service catering to Boston area college students, the write up that propelled them into the corporate gifting space, some of their capabilities in terms of personalized corporate gifting, the variety of cookie and brownie flavors they produce. I raved on their Chocolate Chunk cookies (the sweet vanilla-iness was amazing) and Karen added some rave reviews of her own for their Butter Crunch.
We also talked about the Research and Development and product testing process that they use at Geoff and Drew's and begged to be including on the testing list so we could try all of the experimental flavors as well. We spent some time talking about our favorite cookies, brownies and other confections from Geoff and Drew's and we tried to pin Drew down on a favorite… he claimed (to his credit) that they all were his favorites and he couldn't choose. That actually makes a lot of sense as Drew puts his name on each and every box of cookies and brownies that come out of their facility.
We had a great time as Drew is a guy who is passionate about his company and his products and we always love guests with a genuine passion for food here at Ultimate Foodie.
Enjoy the Podcast and if you would like, take $10 off your order of $50 or more from Geoff and Drew's Cookies by ordering through a link on this page and entering the coupon code "SAVE10"