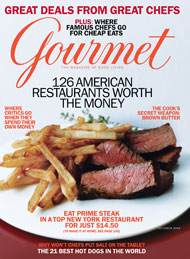 It's worse than hearing that the dish you're craving is unavailable at your favorite restaurant.
It's worse than that horrible gasp and subsequent crunch of breaking dishes in the kitchen.
That sound you hear? It's the high pitched keening and wailing of hundreds of thousands of fans of Gourmet Magazine as they nash their collective noshing teeth on the terrible news in the New York Times from Conde Nast:
After 68 gloriously decadent food filled years, the November issue of Gourmet Magazine will be its last.
Two words come to mind here… THIS SUCKS!
While I've never been a subscriber, I was one of those crazy people that was enticed to buy it off the shelf every month for more than I would have paid for it had I actually subscribed. The covers always made me hungry and filled my head with visions of my kitchen brimming with goodies and deliciousness with me in my frilly Donna Reed apron with my hands buried in bread dough.
On my cookbook bookshelf (which is far, far too small I might add), I have dozens of old issues of Gourmet…many that I purchased in the store, some that my grandmother or mom gifted to me and even some I tracked down on eBay. It was that good.
I am sad.