For those of you who have known me for a long time, you will know that there is one meal of the day that I totally dislike and it's name is breakfast. I detest the icky sugary cereals that smell like cleaning solutions. I dislike the carb heavy bagels that make me feel tired and sleepy. I HATE runny eggs with a PASSION hotter than a thousand burning suns (which coincidentally would actually cook eggs to perfection). Bacon and sprinkle donuts are about the only things about breakfast that I do like, but you can't live on those every day without having a heart attack.
Breakfast is a really important meal and one that admittedly I used to skip regularly. That is, until I discovered the one thing I can have over and over and over for breakfast and never get bored eating.
QUAKER OATMEAL!!!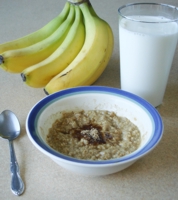 Yes, I readily admit it. I have a deep and abiding love affair with oatmeal. Sprinkled with maple brown sugar. Topped with bits of juicy tree ripened peaches. Mixed with a liberal handful of fresh plump blueberries. It's just so darn good! (Plus it's darn good for you too! Did you know that they have twenty-five years of clinical proof that the soluble fiber in Quaker Oatmeal actually can help lower your cholesterol?)
That's why I was shocked and ecstatic when the good people at Quaker Oatmeal contacted me about this incredible event they are having and asked me to participate. For 25 days, one blogger each day starting at 9 a.m. CST gets as many people as possible to take a picture of themselves with a specific print out of the Quaker Oats' man and upload it to the Quaker Oats' Facebook page and post a link to their photo back in the comments of the blog. The blogger with the most photo/link "votes" at the end of their assigned 24 hour period wins a $5000 donation made by The Quaker Oats Company for a local hunger charity in their area!!
So here's how it works:
I only have the 24 hours between 9 a.m. CST on Monday January 19th to 9 a.m. CST Tuesday, January 20th to get as many link votes as possible, so please, please, please forward this on to everyone you know. There are so many fine, hard working people in my agricultural community of Yuba City that have already been hit very hard by the economy and the food banks are really hurting for donations.
$5000 goes a loooong way to feeding a lot of hungry kids. Please. With a cherry on top.
Also, Quaker has been kind enough to give me two coupons, each good for $1.00 off any 2 Quaker Oats' products to award to two of you lovely readers (I'll pick my favorite photos from your submitted links) AND a case of oatmeal for my local food bank! So get posting!!
With many joyful thanks and a tummy full of oatmeal goodness,
~Karen
*Disclaimer: The photo or video must be taken with your family member(s) or just yourself. Only one photo per person/per email will count. All submissions are subject to the Facebook Terms and Conditions. The Quaker Man logo must remain in intact and may not be modified in any manner. Readers must use the exact download of the image, and all entries need to be wholesome in nature. No nudity, defamation, obscene language or inappropriate, rude behavior in the photograph submitted will be accepted. Compliance with these rules is subject to the sole discretion of The Quaker Oats Company.