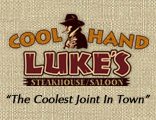 It's not often that I actually go to a restaurant within the first month of their opening and even more seldom do I bother to review it if I do. This is for several reasons…normally a new restaurant is just getting its culinary legs under it. The wait staff is still working on remembering the menu let alone procedures and are stressed out and harried, the kitchen has yet to perfect its processes and sauces are usually either bland or taste like someone had an accident with the spice jars and the place is usually mobbed by folks that get crankier by the second every minute they have to wait in the sweltering lobby crammed with too many people. Not my idea of a great dining experience.
Tonight was a little different.
On the way home from dropping the van off at the mechanics again (darn air conditioner), we decided to go out to eat. But where? Our little town is not known for being a culinary adventureland full of tasty treats and hidden gems. Instead we have one fancy restaurant that is WAY overpriced for it's quality, a bunch of chain places like Chili's, a couple of mom and pop spots, and a dearth of fast food. Boring doesn't even begin to describe it. So there we are, crammed into our little truck, driving around considering and rejecting every restaurant we passed or could think of when Joel reminded me that the new Cool Hand Luke's had just opened. I wasn't really sure we should go (see above) but we decided to chance it.
First impression? Cozy and clean. Cool Hand Luke's is a chain restaurant and it is themed, but they do it without beating you about the head and shoulders with it. The hostesses were friendly, neatly put together (thank goodness not in some horrible tasseled cowboy getup), and efficent. The lobby was a little crowded but not horribly so, there was still seating left on the super plush couches and it was COOL! Not freezing cold but perfectly chilled.
We were sat fairly quickly and placed our orders. Joel had their Santa Maria Tri-Tip and I ordered a bacon wrapped filet mignon. We also ordered an onion blossom (I've been missing these since Chili's took them off their menu locally). The kids were incredibly excited to be able to choose from more adult fare including cheeseburger sliders, spaghetti and a kid sized steak dinner. They actually had quite a difficult time choosing!
Neither of us particularly enjoyed our soup and salad…they were a little blase, but honestly there's only so much you can do with iceburg sometimes. It was decent though. The kids loved the sourdough rolls and really enjoyed checking out the decor while we waited for our entrees. Joel's tri-tip was perfectly tender and flavorful and loaded with sauteed mushrooms and a fantastic side of garlic mashed potatoes. The kids entrees were all gargantuan (I mean, they all have hollow legs sometimes, but this was teenage football player sized portions! Great price on them though!!) and they enjoyed them and I'm sure they'll enjoy their leftovers tomorrow. It was rather funny to see our oldest daughter try to figure out the bottle of ketchup…I never realized that she's never used a glass bottle of Heinz until she started shaking it like mad over her plate trying to get the ketchup out. Too funny!
Unfortunately, the only damper to my evening was my entree. The bacon wrapped filet mignon arrived only half wrapped in bacon and with a side of "fancy greenbeans". The beans rocked! They were still slightly crisp and had this great teriyaki sauce on them that wasn't overwhelming, just a perfect compliment. The filet was absolutely awful. It was a little over medium, but not by much, so it was cooked passibly, but the meat quality was just downright bad…grainy and gritty. By the third bite of the thing, I was finished. If Joel's had been the same quality, I must admit I would have just chalked them up as a place to skip, but his dinner was so incredibly succulent and everything else was so good that when our eagerly competent waitress Shellene returned, I actually did tell her that there was something wrong. She immediately got the manager and he was very apologetic, took it off our bill and offered to replace it with a different entree, but since we were basically done, I declined. No sense in making the kids wait.
So I got a bum steer (ha!) but occassionally that happens. Will we go back to Cool Hand Luke's? Absolutely. But next time, I think I'll try the prime rib…