This review is more than a little overdue, but sometimes the pleasurable things in life, like blogging, take a back seat to the day to day grind.
This past summer while Joel, Wade and I were in New York City, we made the pilgrimage to that foodie mecca, Chelsea Market. While I was actually underwhelmed at what was there…it was nice, but in my opinion we have larger places with greater selections out here on the west coast…we did find this fabulous little restaurant right in the middle of the market called The Green Table. 
It's a quaint little place tucked slightly awkwardly into a crooked corner of the main path through the market, but we were intrigued by the large family style table out front. We sat down and ended up sharing the table with other diners which was rather fun. It's owned by The Cleaver Company and their daily menu enlists the freshest ingredients from local farms and greenmarkets. Their company is committed to sustainable agriculture and they try to use certified organic products whenever possible. 
To start the meal, I had an absolutely divine cup of Earl Grey tea from Arbor Tea and when I asked for some cream (I prefer my tea cambric style), the waiter brought me a small prechilled flagon of cream and a dish of sugar. It was a very simple and elegant touch. We shared a bowl of Crawfish Bisque which I found to be absolutely delicious…a nice balance of heat to cream and with easily recognizable chunks of crawfish. For our entrees, I ordered their Classic Chicken Pot Pie, Joel had their Vegetarian Mushroom Pot Pie, and Wade simply had to sample their New York Bánh Mì. 
The pot pie was really quite well done. A lot of the time, pot pies can have heavy pastry and have more sauce than anything for contents, but this pot pie was light and airy and full of delicious chicken and vegetables in a savory sauce that complimented theingredients instead of overpowering them. It was served along with a small salad of market  greens which for the most part was good, but there were a few pieces in it that were incredibly bitter, so much so that I decided to not finish it.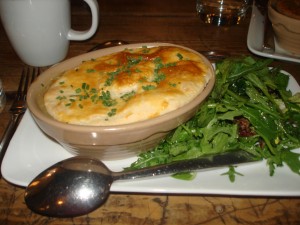 I'll let the guys talk about their dishes, but over all, I would definitely recommend stopping here for a meal if you're in the area with some time to kill and a thing for people watching. Our server was very competent and did a fine job and we were full, but not uncomfortably so when we were done. I also appreciated that he didn't try to rush us to vacate the table. That speaks volumes about what they find important in a dining experience.  
Happy eating!
~Karen